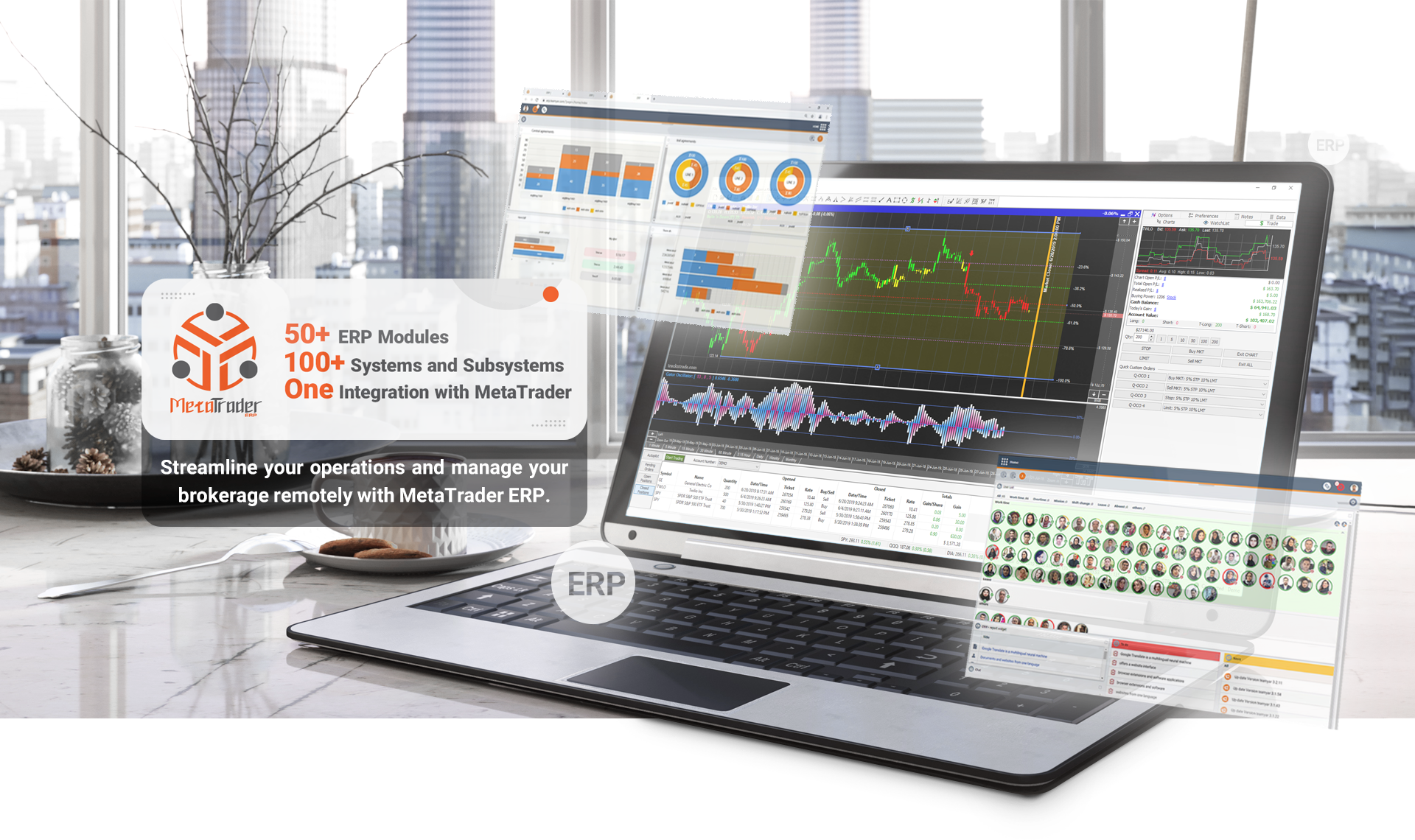 Hello
Dear Mr Jone
I hope this email finds you well. It was a pleasure to meet you at IFX Expo in Dubai, I wanted to follow up with more information about MetaTrader ERP software and how it can automate and integrate all your brokerage operations digitally and remotely.
MetaTrader ERP is a comprehensive solution for financial brokers, integrating all aspects of their business operations into one centralized platform.
MetaTrader ERP includes integrated modules and systems designed specifically for seamless integration with existing brokerage systems; aimed at improving efficiency, productivity, reduced manual errors and better customer support, as well as enhanced risk management and compliance capabilities. Moreover, experience advanced reporting and analysis tools that will provide you with valuable insights into your business performance and help you make informed data-driven decisions - all while being able to manage remotely:
Increased efficiency and productivity: Eliminates the need for manual data entry and simplifies complex processes, enabling you to complete tasks quickly and accurately.
Enhanced customer service: CRM module helps manage customer interactions, track leads, and deliver personalized communications, resulting in better customer satisfaction and retention.
Improved risk management and compliance: The software includes an AML module and provides full support for regulatory compliance with various jurisdictions and trading instruments.
Advanced reporting and analysis: Reporting and analysis tools provide real-time KPIs, analytics, and other insights into your business performance, enabling you to make informed decisions.
Customizable and scalable: Software is flexible and designed for big data management and scalability of the business.
Integrated solutions and modules: Modules and features are specifically designed for financial brokerages, providing a complete, end-to-end solution. This includes an IB management system that helps you manage your relationships with Introducing Brokers, track their performance, and manage their commissions. Additionally, the P2P module enables peer-to-peer trading, providing an innovative payment solution.
Cost-effective: By automating and streamlining your business operations, you can save time and reduce costs associated with manual data entry, which leads to increased profitability.
MetaTrader ERP is an all-in-one solution that can help financial brokerages improve efficiency, customer service, compliance, reporting, and profitability, all while providing a flexible and customizable platform that can be tailored to your business needs. The software also includes an IB management system and a P2P module that can help you manage your relationships with Introducing Brokers and offer innovative trading solutions to your customers.
We'd love the opportunity to show you how MetaTrader ERP can work for your broker. Let's schedule a demo or connect you with one of our sales representatives who can answer any questions you may have.
Thank you for your time, and we hope to hear from you soon!
Best regards,
Analytics & Reporting
IB Management
Multi-asset Support
Remote Team Management
Back-office Integration
Regulatory compliance
API Integration
Mobile Support